Most Manufacturers are not Industry 4.0 Ready
by Nikhil Joshi on Dec 4, 2019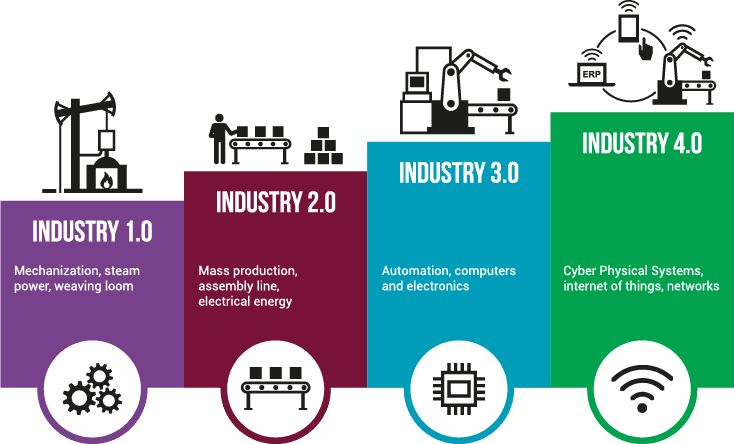 There is a minimum of 25% Increase in Labor Productivity in manufacturing units with digital competencies compared to those who are lagging according to "The future of productivity report, 2015 by OECD". In 2019, not much has changed for Industry 4.0 Adoption. Watch the video below if you are new to the buzz word Industry 4.0. Most manufacturers we speak to, often say with concern that their organization is not ready to adopt Industry 4.0 and this article is to give you insights on what are some of the barriers to Industry 4.0 adoption.[nectar_video_lightbox link_style="play_button_2″ nectar_play_button_color="Default-Accent-Color" image_url="14607″ hover_effect="zoom_button" box_shadow="none" video_url="https://youtu.be/4w0NJPZtiVU"]1. Does your C-Level have this key competency? True digital leadership requires a new competency and a Digital Mindset is what executives need to successfully adopt Industry 4.0. Executives are not expected to learn coding but are certainly expected to understand the lifecycle of software. To put it simply, with technology, many manufacturers have a mindset that software implementation is like buying a car or a machine for the factory whereas the reality is that you are getting just a flexible assembly line that can build you a car as per your need. Depending on the competitiveness and luxury required, you can either build a Hyundai or BMW. A Digital Mindset can change the way decisions are made about software adoption in manufacturing companies and also how they are implemented. To be fair, executives have the mindset of buying a car from past experience, because software built in 90's and 2000's was all with traditional assembly lines with limited flexibility but as we enter 2020, there has been platonic shifts in software platform being very flexible to build what you want and then scale it up.
2. Are your Production systems or World Class Manufacturing pillars or Operational excellence programs promoting digital transformation culture? Green Belts, Black belts of Six Sigma, World Class Manufacturing Champions, and Operational Excellence functions are possibly where a disruptive adoption of Industry 4.0 practices is needed else these teams could be extinct in organizations in the next few years. In 2008, my company had done a lean transformation project for a large apparel manufacturing company which failed very badly. During the post-mortem analysis, one of the factory managers call me aside and said, "do you really want to know the truth?" and I said "Absolutely, just give it to me on my face". He only said one thing there after "I am already working 10 hours every day, everything you have taught us is great but I am required to spend now 13 hours every day in office on many days because of the extra paper work you have created". Adoption of Industry 4.0 practices into the existing internal functions of Lean, Six – Sigma, WCM or Operational excellence can have a significant impact on ensuring that all these great concepts can sustain in the organization and people are not spending additional time to adopt them. Industry 4.0 is an enabler to these Lean Manufacturing systems and has the ability to enable factories become lean and agile at the same time.
3. Is Data availability a challenge, Industry 4.0 can help? Factory and plant executives often mention to us that the main problem with data is the time that has to be invested to collect and maintain the data. Industry 4.0 software's can either automate data collection for you or enable you visually to correct the data or modify your data faster. My team and I were implementing a Production Scheduling software for a multi plant manufacturer and after importing initial data into the software the manufacturer realized that they do not have good cycle times data, routings etc. After the project went live, the IT team mentioned to us that visualization of how the data was being applied in production schedules allowed them to clean their data 5 times faster than what usually they would have taken. Wherever possible, sensors and automation can today easily enable data collection and for manual data collections, there is always a possibility to adopt paperless manufacturing.
4. Do you recognize that "Lack of Collaboration" is the new waste that is invisible? Worlds leading expert on Toyota Production Systems, Shigeo Shingo said once that "The most dangerous waste is the one that is INVISIBLE". Many factories today have clean Epoxy floors, very good 5s management systems, machines that are far from being dirty etc., but still struggle to collaborate effectively. Sales team is still asking Operations "Why can't you produce more?" and Operations team is still asking "Why can't you sell first what we have produced?". Supply Chain is still asking to both sales and operations "Why can't you have certainty so that I can get you the right materials else you are going to make me the scapegoat?". Most factories we visit, sales, operations and supply chain have their own spreadsheets which are unlikely talking to each other limiting collaboration. Collaboration is not only a challenge within the organization but also between customers, manufacturers and vendors too.
5. How to Justify more software investment when we do not see returns on the investments that have already been made? Have you drafted a software specification document, got software built, paid the vendor because he delivered what you asked for and yet see a situation that you are not using the software? In the last 20 years its not that manufacturers have not spent money on software or not received any benefits at all, but the problem has been more on how the requirements have been given to vendors who would develop software. Users almost assume that the vendor knows all possible scenarios and has budgeted every scenario whereas the vendor mostly goes by the assumption that you have covered all possible scenarios. If you have similar history with software implementations or are considering implementing bespoke software (anything that is not a product like spreadsheets) then going the agile route is the best way forward. Budgeting internally should not be done for every possible scenario but what is possible out of the box (even if it does not give returns in phase I) and once you have played with the tool, you will know what requirements and scenarios have to be given to software vendors. Finance teams necessarily do not agree with this methodology as they want one single number to assess return on investment and this is where the Digital Mindset of executives comes into play. Finance teams have to understand the lifecycle of software. However, there is one thing that finance is always right about which is that any projects taken have to be attached to some benefit that the organization has to achieve whether it's sales revenue, cost or customer service. Having a clear benefit outlined ensures successful project completions and also ensuring continuous usage.
6. With so many existing challenges, where do we even start? When we go for assessment to factories and talk to different stakeholders, we ask them their biggest challenge, Revenue, Cost or Delivery and most often the answer we get is "all of them". What the stakeholders really are saying is that they have improvement opportunities in all areas and don't really know is where to start. Companies that have a good strategy in place and track business goals vs actuals may not have this problem but you will be surprised to know that even some of the well known names in the world struggle with this challenge. Management Consulting firms have given us frameworks to solve this challenge and like any other philosophy even Industry 4.0 has a framework. OPC UA (IEC 62541), ISA95 (ANSI/ISA-95/IEC 62264), and IEC 61131 are some of the standards and frameworks to start with but every major vendor or the big 4 consulting firms are in the race today to make these frameworks. In the words of Theory of Constraints (TOC), the thumb rule is to identify your biggest business challenge out of the existing challenges (bottleneck) and see how you could use software / automation to improve.
7. Our Competitors are having the same challenges, so why should we do anything different? This question has come up when mass production was taking over in late 1800's (Industry 1.0) or assembly line in early 1900's (Industry 2.0) or Computers were taking over paper in the 70s (Industry 3.0) and we have the same question even today. Everyone is resistant to change and yes why should we do anything about it. This is what most of the alarm clock manufacturers thought until the mobile phone sales nearly have brought them to become extinct. You may think your competitors around you may be facing the same challenges but there is so much innovation happening in technology everyday that our competition is no more within the same industry.
Do you want to learn more about best practices that can improve your bottom line? Contact Us to setup a 15-minute discovery call.