7 things ERP will never do effectively for Manufacturers
by Nikhil Joshi on Sep 23, 2019
7 THINGS ERP WILL NEVER DO EFFECTIVELY FOR MANUFACTURERS
Most manufacturers continue to use spreadsheets even after buying an ERP that was expected to do most of the activities for them.
Here are seven things that your ERP will not do for you due to limited capabilities leading you to either use a spreadsheet or a third-party software: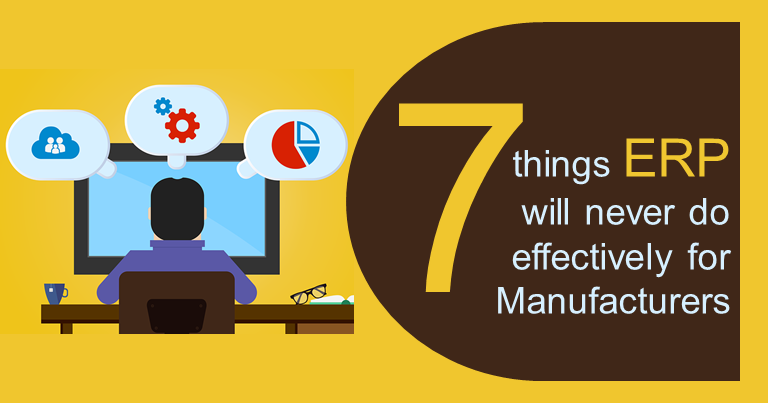 1) Capacity and Resource Optimization: ERP Production Planning modules are fundamentally designed to serve the finance function for costing & inventory management. These systems also have limited capabilities to incorporate factory constraints. Most ERP's do not have flexible production scheduling modules to marry the tribal knowledge and operational constraints to optimize production. Manufacturing ERP's have outstanding capabilities to link a Sales Order or Forecast to Production Orders but have limited ability to accurately estimate the start and end time in detail to give a plan for the production floor to follow correctly. Complex manufacturing facilities like food companies may have additional business logics around Koshers, Allergens etc. to be accounted for optimal sequencing or an automotive plant which may have mold constraints to be adhered along with setup time or changeover reductions on machines for capacity optimization. Except for focused third party software's, such complex business logics are not handled easily or out of the box by the ERPs or even spreadsheets.
2) Capable to Promise (CTP) / Available to Promise (ATP): ERP's today do have CTP, and ATP features with limitations on how manufacturing operations data at the backend is utilized for these estimations. For Example, a manufacturing ERP would use plant level or department level rough-cut capacity numbers to come out with a promise date, but this often works when production lead times are shorter. If you could produce items in less than a day, sales teams could always create some inventory or buffer additional time before committing to customers to ensure 100% On-time delivery. However, the moment you have multiple product variants and if you are a make-to-order (MTO), make-to-stock (MTS), engineer-to-order (ETO) or a hybrid environment, rough-cut is only going to give you dates which may not be always accurate leaning sales team then to turn on the spreadsheet magic using an average lead time-based strategy for committing dates to customers. This works sometimes but often leads to customer confidence being affected. Best in class manufacturers have also seen effects of such practices create unnecessary raw material or work in progress inventory, and if the manufacturer can afford even finished useful inventories increasing the costs to remain 100% On-time.
3) What-if Analysis: Customer Priorities are often changing today due to the increase in product and production complexity. In such an environment, sales teams are always expecting to help customers on their rush order requirements. This requires active collaboration between priorities managed by sales teams and what is being done on the production floor. ERP's provide an opportunity to enter the customer priorities and giving visibility to operations on the changes the sales team is dealing with but have limited capability to do something about it and provide a quick response. What is needed is ready what-if analysis by sales and operations team on whether the rush order can be met with the existing capacity or is it delaying other customer orders. This quick response to demand also enables the manufacturers to charge a higher price for the rush order service provided or deny the rush order if the impact on other customers is significant.
4) Multi-Site Capacity Planning: Many Companies have multiple plants which would have the capability to make similar items in different locations. While many Demand Planners would use the forecasting capabilities of the ERP, limitation occurs when you want to play with options before creating the final master production schedule (MPS). A Master production schedule is the crucial input for the MRP run in the ERP to generate the correct planned and production orders. Multiple sites may come with constraints related to material availability from specific locations, location selection constraints, distribution centre stock levels leading to various combinations possible. Not Choosing the right strategy can many times lead to inventory turns reducing and affecting work in the capital and cash flow.
5) Plan vs Actuals: Almost all ERP software has some production confirmation mechanism to update and ensure inventory levels in the system are a perfect showcase of reality. However, most ERP's have limited functionality to capture details of the actuals. Whether it is capturing how much percentage of work was completed in one shift or how many actual labor hours were spent on a particular customer order, such information is not easy to capture in the ERP and operations teams often end up maintaining spreadsheets or building a homegrown shop floor data collection system enabled with Barcodes.
6) Simulation and Digital Twin: ERP is the system of record, and hence the master data is always tricky to easily change even if it is to be done temporarily. Manufacturers working on continuous improvement projects always find it hard to use the ERP to simulate outcomes based on changes in master data. For Example, let us take a low-cost automation project being done on an existing machine that will bring down the cycle time and make the machine faster. There is a need to understand the impact on the entire production system of this change. ERP makes it very hard and time-consuming to try such experiments even for financial justification before a continuous improvement project is taken up leading operational excellence teams to use standalone tools for carrying out such activities. Simulating scenarios or creating a digital twin of operations also becomes difficult when master data is difficult to modify for experimentation.
7) Trace and Geneology: Traceability and Genealogy are two ways to overcome problems linked to the recording of material lots used during production operations. This aims at following all production steps and guaranteeing products quality by having the possibility to manage any noncompliance. ERP's create production orders at a high level but do not recommend creating one-piece production order in the ERP because the software user interfaces (UI's) are not generally designed to update each unit of the production order but are more designed to be batch-based. Material lots are hence either created in barcode software plugged with spreadsheets or homegrown shop floor data collection software's widely known as Manufacturing Execution Systems (MES) today.
Learn more about ERP limitations for manufacturers by reaching out to us.